13min 30s.
Watch the video to see what do you have to look for in an ECG of a patient with syncope. Find out why this young patient lost his consciousness. How to treat polymorphic VT?
views: 564 comments: 0
12min 31s.
ECG findings in patients with elevated intracranial pressure: Diffuse T-wave enlargement and inversions Brady- and tachydysrhythmias Non-specific ST changes ST changes mimicking ischemia
views: 950 comments: 1
08min 23s.
Your first thought is VT? Look how wide are those QRS complexes. In case of such wide complexes you should first think of toxicologic and metabolic causes (hyperkalemia & severe acidosis)
views: 218 comments: 0
09min 28s.
It possible to diagnose MI in paced rhythms, you just need to use Sgarbossa's criteria: 1. STE ≥ 1mm concordant with QRS deflection in any single lead 2. STD ≥ 1mm in V1, V2, OR V3 that is concordant....
views: 719 comments: 0
10min 00s.
ECG findings in Pulmonary Embolism: -Sinus Tachycardia (only 30-50%) -SIQIII or SIQIIITIII , a.k.a. Rightward Axis (not sensitive or specific) -New RBBB or incomplete RBBB -Superventricular...
views: 713 comments: 1
12min 20s.
Differential for regular wide complex tachycardia Ventricular Tachycardia!!!!! - this should be always your first suspicion SVT, atrial flutter or sinur tachycardia with aberrant conduction Look...
views: 846 comments: 0
06min 32s.
WPW triad Short PR interval Widened QRS (>120ms) Delta wave (but: not always present!)​
views: 933 comments: 0
13min 14s.
Always look for P-waves. They might be buried in T-waves or QRS complexes. Their presence and correlation with QRS complexes is important in differential diagnosis of brady- and tachyarythmias.
views: 878 comments: 0
08min 06s.
Look carefully for the P-waves or you will miss the proper diagnosis! Little blimbs that you see in lead II are regular - those are the P waves. There is no relation between them and QRS complexes which...
views: 656 comments: 0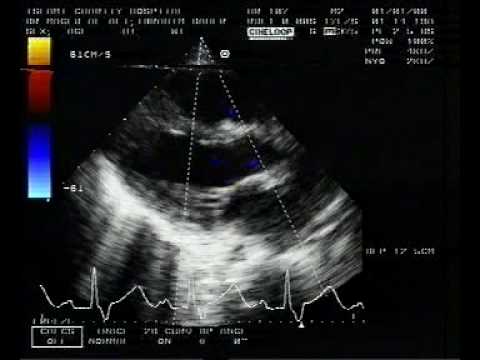 00min 17s.
TTE parasternal long axis view with color doppler shows diastolic flow from the septum to the left ventricle. Video by Maged Al Ali MD.
views: 539 comments: 0