00min 15s.
Same case sort axis view at aortic level defect at 9 oclock position.
views: 207 comments: 0
00min 15s.
21 year old lady c/o recurrent rti no complaints, loud systolic murmur at 3 rd intercostal space ekg -right axis deviation and rvh no other positive finding echo shows sub aortic vsd with 50 % over ridding...
views: 129 comments: 0
14min 19s.
If you have concerns of an ECG - get serial ECGs! T-wave changes can predict cardiac ischemia Wellens syndrome - Biphasic T-wave pattern in precordial leads can be specific for proximal LAD lesions
views: 755 comments: 0
15min 57s.
ECG Findings in V1-V3 -RBBB or Incomplete RBBB -Coved or Saddle type ST-segment elevation It is important not to miss this condition. Patients with Brugada syndrome can develope fast polymorphic...
views: 613 comments: 0
12min 19s.
Sgarbossa's criteria is used to diagnose MI in the setting of LBBB or paced rhythms. 1. STE ≥ 1mm concordant with QRS in any lead 2. STD ≥ 1mm in V1, V2, or V3 that is concordant. 3. Discordant STE...
views: 513 comments: 1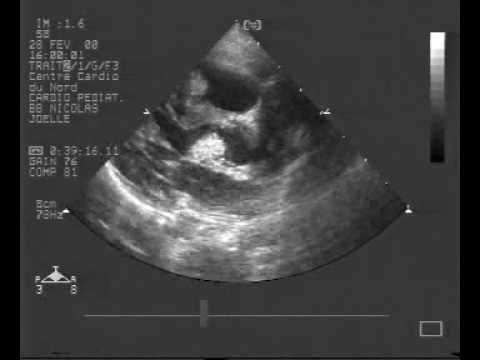 00min 12s.
Echocardiographic parasternal long axis view shows rhabdomyomas in a 3 month-old girl with tuberous sclerosis. There are multiple locations of the tumors: left ventricle, left ventricular outflow tract...
views: 409 comments: 0
10min 22s.
Differential diagnosis for Irregular Narrow-Complex Tachycardia -Atrial Fibrillation No clear atrial activity -Atrial flutter with variable conduction Regular atrial activity around...
views: 320 comments: 0
10min 41s.
If the rythm is regularly irregular it is not AF! Look for P-waves! What can it be? -Premature Atrial Complexes (groups of 2 -> atrial bigeminy, groups of 3 -> atrial trigeminy) -2nd Degree...
views: 339 comments: 0
12min 21s.
ECG findings in Hyperkalemia -Peaked T-waves -Widening of the QRS -Prolonged PR -Flattening of P-waves -Advanced AV Blocks and sinus pauses ​-Pseudo ACS, new BBB's, ST-segment...
views: 647 comments: 0
06min 32s.
Causes of short QT-Interval -Digoxin Toxicity -Hypercalcemia -Congenital syndrome
views: 403 comments: 0