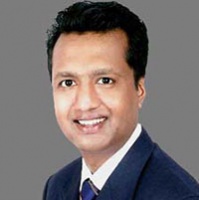 Bushan Joseph
Degree

MD
Professional group

doctor
Fields of interest

Neurosurgery
Views

11251
Biography

Dr Bushan Joseph is a certified Brain and Spine surgeon. He has been involved in the surgical management of brain and spine disorders since 1996 and has operated on more than 3500 patients (till 2011) with various complex brain and spine disorders.

Dr Bushan has identified disorders of the spine as his area of special interest and has done award winning original research on the effects of injury on the spinal cord. His areas of expertise include degenerative disorders of the spine (lumbar and cervical spondylosis), adult and pediatric spinal trauma, failed backs and re-do spine surgery, atlanto-axial dislocations, sacral cordomas, spine tumors, congenital disorders of the spine such as tethered cord, split cord and myelomeningocele etc.

Dr Bushan is one of a very small number of Neurosurgeons who has undergone training for both Spinal Deformity Surgery and Key hole (Endoscopic) spine surgery and is performing these surgeries on a routine basis with excellent results.
Shared content