brain surgery
Procedural video on left-sided meningioma removal surgery. Circular excision of the infilttrated dura mater and use of TachoSil® sealant matrix to restore the dura in a sandwich technique.
Endoscopic video case: pituitary adenoma treatment in transnasal endoscopic technique. MIS approach to achieve low complications as postsurgical cerebrospinal fluid rhinorrhoea. This challenge is...
Surgical technique for intraextracranial meningioma.
Learning vieo case: surgical technique using neuromonitoring.
Metastasis of a sigmoid carcinoma, surgical technique.
clinical symptoms, diagnostic surgical technique
Traumatic brain injury. Management, operation technique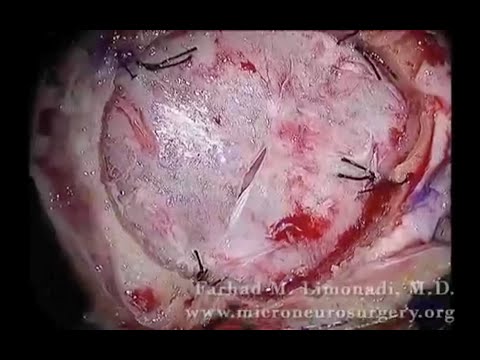 04min 19s.
Video clip from craniotomy to remove a metastatic tumor viewed from a high power magnification surgical microscope. Courtesy of Dr. Farhad Limonadi, MD neurosurgeon specialist located in the Palm Springs,...
The material presents multiportal brain surgery.