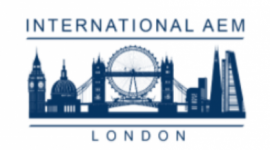 International Advanced Endoscopy Masterclass (AEM)
Organizer: International AEM
Venue: The Royal Society of Medicine , 1 Wimpole Street, Marylebone, W1G 0LZ​ London, UK
Website: go to
It is with great pleasure that we welcome you to London for our 4th International AEM (Advanced Endoscopy Masterclass); a comprehensive, major educational event with the participation of a stellar faculty of highly acclaimed international and national speakers to showcase the state-of-the-art of advanced endoscopy.

As witnessed through the quality of the first 3 years and the universally positive feedback received from over 340 delegates from 40 countries, 50-strong faculty and sponsors, the International AEM London has already proven itself to be an unmissable event.

The AEM consists of 2 full days of didactic/interactive lectures and video sessions covering all key topics relating to frontline and advanced endoscopy, followed by a full day of hands-on training (ESD, ERCP and EUS), running in parallel with a dedicated capsule endoscopy course-new for 2021!

In collaboration with Jichi Medical University (JMU), Japan, the International AEM London shall continue to host the world`s first-and-only ESD hands-on training course dedicated to the revolutionary `pocket creation method` (PCM) as developed and taught by Prof Hironori Yamamoto, our key guest. The award-winning home of the International AEM shall remain that of the Royal Society of Medicine at 1 Wimpole Street, in the heart of central London.



Once again, welcome to London for the 4th edition of this comprehensive educational event!
tags: International Advanced Endoscopy Masterclass International AEM endoscopy gastroenterology esd eus ercp