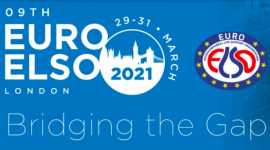 EuroELSO Congress 2021
Organizer: EuroELSO
Venue: Queen Elizabeth II Congress Centre, Broad Sanctuary – Westminster, SW1P 3EE London, UK
Website: go to
CME credits: yes
The EuroELSO scientific committee are developing a program covering all aspects of extracorporeal life support therapies. Intensivists, cardiologists, cardiac surgeons, pediatric and neonatology specialists, perfusionists, ICU nurses, physiotherapists and dieticians will gather to share their clinical experience and discuss new technologies and new directions in research.

***
The escalation of COVID-19 Coronavirus in Europe has led to further restrictions regarding travels and the hosting of events and congresses by governments and health authorities across Europe and the rest of the world. With yesterday's decision of the UK government to put the entire UK on a lockdown for at least 3 weeks even the most optimistic amongst us are having to give in to the fact that this year's EuroElso Congress from 6th – 8th May 2020 has to be postponed.

The new congress date is now March 29 – 31, 2021 in London at the QEII convention center, as it would have been this year.

All registrations and bookings will remain valid for the new date and will be transferred automatically but please make sure to cancel your accommodation and travel arrangements as soon as possible. We assume that all of you are as eager to meet and share not only Covid 19 experiences in March 2021 as we are. However, if you need to request a refund on your delegate fee please email us. In these unprecedented circumstances we will come to a mutual agreement.

However, as the COVID-19 topic is very important for our field, we are planning an additional compact virtual 1 day meeting in May this year. All registered delegates will be able to participant free of charge. Further details will follow in due course.

We are very much looking forward to welcoming in London in March 2021 – stay well.

tags: Intensivists cardiologists cardiac surgeons pediatric and neonatology specialists perfusionists ICU nurses physiotherapists dieticians