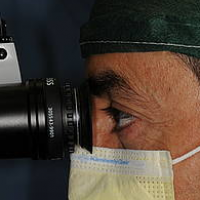 Massimo Mazza
Degree

MD, PhD - Assistant Professor
Professional group

dentist
Fields of interest

Maxillofacial Surgery, Implant Dentistry
Views

11503
Biography

My name is dr. Massimo Mazza and I am a dental surgeon.
I studied medicine 6 years, 3 years general dentistry, 5 years oral and maxillofacial surgery, fifteen years spent in hospitals in Italy and abroad, and lot's of intellectual curiosity.

The "dental medicine" has become my job, and I tried to do it professionally.

The optical magnification (microscope) provides a kind of "operational awareness": instead of doing and then check, we work and check at the same time. Therefore we achieve more accuracy, more respect for biology, better aesthetic and if you record the operations (camera) and projected on a screen ... better communication with patients.

Internet allows us faster and less expensive levels of interaction until recently impossible: to assist remotely to a complex surgical procedure, e-learning, remote post-operative care of patients, virtual brainstorming of professionals from different countries. These are just some examples of global interactions ... made possible by recording high quality video images.
Shared content