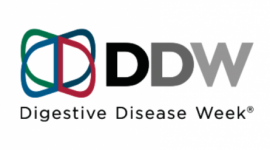 Digestive Disease Week® DDW 2021
Why Attend DDW?
Recognized as one of the top 50 medical meetings by HCEA, Digestive Disease Week® (DDW) is the world's largest gathering of physicians, researchers and industry in the fields of gastroenterology, hepatology, endoscopy and gastrointestinal surgery.

Digestive Disease Week® (DDW) is the world's leading educational forum for academicians, clinicians, researchers, students and trainees working in gastroenterology, hepatology, GI endoscopy, gastrointestinal surgery and related fields. Whether you work in patient care, research, education or administration, the DDW program offers something for you.

Save the Date

DDW 2021 will be held May 22-25 at the Walter E. Washington Convention Center in Washington, D.C. Registration and housing will open in January 2021.
Update Your Knowledge: Attend high-quality sessions where you can get practical and useful take-home information.
View Cutting-Edge Research: Get exclusive access to top tier research and discuss changes in GI with leaders in the field.
Meet Thought Leaders: In-person networking allows you to meet and collaborate with your colleagues from around the world.
tags: gastroenterology hepatology endoscopy gastrointestinal surgery Digestive Disease Week 2021 DDW 2021 DDW