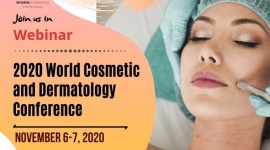 Live Webinar on 2020 World Cosmetic & Dermatology Conference
The 2020 World Cosmetic and Dermatology Conference (2020WCDC) will be hosted live from Bangkok, Thailand from November 06-07, 2020 around the theme 'Discovering the Science of Aesthetics and Skin Care.

2020 World Cosmetic and Dermatology Conference (2020WCDC) is a premiere educational Dermatology Event in the field of Cosmetology and Dermatology that rotate between continents and are organized in collaboration with national and international Cosmetology and Dermatology societies and associations. The World Cosmetic and Dermatology Conference is targeted to the international Aesthetic, Cosmetic and Dermatology community as well as other healthcare professionals involved in multidisciplinary skin care; thus, enabling professionals from worldwide to exchange their views on a wide variety of topics affecting skin and those suffering from skin disease around the world. 2020WCDC exists to advance the science and art of medicine and surgery related to the care of the skin, nails and hair. 2020WCDC works with many other organizations to achieve its aims of supporting patients and improving standards.
tags: dermatology plastic surgery cosmetic surgery Cosmetology skin specialist