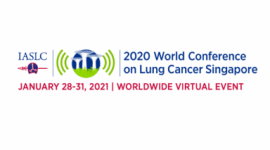 World Conference on Lung Cancer Virtual Congress
Organizer: International Association for the Study of Lung Cancer (IASLC)
Venue: Virtual Event, -
Website: go to
For the first time, the World Conference on Lung Cancer will be delivered as a virtual event. As we adjust to a world changed by COVID-19, this Conference continues to be the leading gathering of international scientists, researchers and patient advocates in the field of lung cancer and thoracic malignancies and provides a forum to connect, share knowledge and learn about the latest developments in the research and treatments of thoracic malignancies.

We are confident that our comprehensive virtual program will deliver the knowledge and networking-rich conference experience that you are used to. A digital platform offers many (additional) exciting possibilities and an even wider and more inclusive reach than a live event ever could. Join us as we rise to the challenges and opportunities of a new era after COVID-19.

We look forward to your support and engaging with you in a virtual environment.


Why attend WCLC 2020?
World's Largest: Join the world's largest international gathering of clinicians, researchers and scientists in the field of lung cancer and thoracic oncology.
Connect & Collaborate: Learn, share knowledge and network with over 7,000 delegates from more than 100 countries.
Exemplary Education: Benefit from wide-ranging and multidisciplinary content consisting of over 2000 presentations and 17+ specialized tracks.
Extensive Resources: Choose from ground-breaking plenaries, experts lectures, research abstracts, interactive breakfast sessions, hands on workshops as well as several sessions specifically dedicated to nurses, patients and advocates.
tags: WCLC20 World Conference on Lung Cancer Oncology physicians nurses Physiotherapy