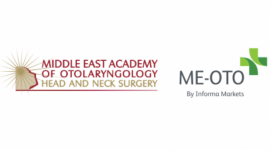 ME-OTO 2020
Organizer: Informa Markets
Venue: Conrad Dubai Hotel, Dubai, AE
Website: go to
CME credits: up to 26.75
Under the theme of 'Tomorrow's Otolaryngology Today', the 17th Middle East Otolaryngology Conference and Exhibition will return to cover all major Otolaryngology disciplines and showcase cutting-edge solutions.

Taking place from 5-7 October 2020 at the Conrad Dubai Hotel, ME-OTO will host 7 CME scientific conference tracks, including old favorites such as Rhinology, Otology and Facial Plastic Surgery.

NEW FOR 2020
• Brand new tracks - Laryngology, Paediatric Otolaryngology and Head & Neck Surgery
• More international speakers from USA, Europe, Asia and the GCC region
• Enhanced networking opportunities - speed networking sessions

This is a must attend event for all Otolaryngology healthcare professionals who look to hear from, and ultimately establish themselves as, field experts.



7 CME conferences
200 global speakers
700 Otolaryngology professionals
30 exhibiting companies
tags: laryngology Paediatric Otolaryngology head and neck surgery Otolaryngology Middle East Otolaryngology Conference ME-OTO 2020