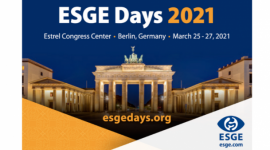 ESGE Days 2021
Organizer: European Society of Gastrointestinal Endoscopy (ESGE)
Venue: Estrel Congress Center Berlin, Sonnenallee 225, 12057 Berlin, DE
Website: go to

"On behalf of the ESGE Executive Committee and Governing Board, it is with great regret that I announce we will not hold our ESGE Days 2020 congress. For the past several weeks, we extensively explored alternative congress options, including postponement, but no appropriate date could be found. Thus, in light of the ever increasing incidence rates and restrictions with regards to travel and to safeguard the health and safety of our participants, faculty, staff and the citizens of our host nation, Ireland, we are forced to cancel ESGE Days 2020. We assure you of the continuation of the ESGE and all our societal activities. Planning for our next congress is already well underway and we look forward to welcoming you to Berlin, Germany (March 25-27, 2021) for ESGE Days 2021."


Mario Dinis Ribeiro/ ESGE President
The goals of the European Society of Gastrointestinal Endoscopy (ESGE) have always been underpinned by the fundamental aims of increasing quality of care, establishing guidelines for best practice and developing educational programmes.
ESGE Days has already proven itself to be an attractive congress for all those interested in endoscopy. Our aspiration from the outset was to bring together the whole endoscopy team and we met our goal. Alongside fully trained endoscopists and heads of units, nurses and the aspiring new generation of residents and fellows joined us in Prague to discuss advances in our field, contributing to continued education and sharing the latest updates. In Berlin, renowned experts will again gather for a state-of-the-art meeting, bringing together live demonstration, lectures, hands-on training, specialized symposia and discussions.
1,400 participants in Budapest in 2018
2,400 participants from 97 countries in Prague in 2019
tags: ESGE Days European Society of Gastrointestinal Endoscopy 2021 endoscopy