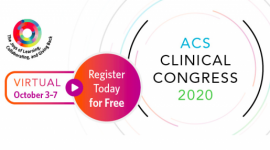 ACS Clinical Congress 2020 Virtual
ACS Clinical Congress 2020: A Virtual Stage for Virtually Limitless Opportunities
Join us October 3–7, 2020, for the first-ever fully virtual Clinical Congress. With both live and on-demand sessions, the conference will offer the finest surgical education for medical professionals across all specialties.

This year's conference embraces a digital approach that will unlock new opportunities for surgeons everywhere. Today, the medical community—and the world—faces many unique challenges, and Clinical Congress 2020 will help equip you with the tools and educational content you need to grow, develop, and find success no matter what stage you're at in your career.
Immerse yourself in a wide variety of educational sessions that define optimal surgical practices and cover innovative and trending topics in surgery today. Learn directly from the world's premiere surgeons and leading experts about extraordinary cases, robotic-assisted surgery, opioid-sparing pain management, global health competencies, disaster preparedness, new surgical techniques and procedures, and more! Plus, take advantage of an array of essential topics, including surgical quality improvement, patient safety, health care advocacy, and reimbursement.

Access virtually limitless educational opportunities and earn more than 220 Continuing Medical Education Credits for FREE!

Access essential educational content and training to enrich yourself with the critical knowledge and skills needed to achieve the best possible outcomes for your patients. Clinical Congress 2020 offers a unique opportunity to claim more than 220 CME Credits and meet your state-specific requirements (Credit to Address Regulatory Mandates) and requirements for American College of Surgeons Accreditation/Verification Programs for FREE. Credits can be claimed both during the meeting and for a limited time when viewing the sessions after the conference is over. Content will remain online until the end of 2020.
tags: ACS Clinical Congress 2020 American College of Surgeons Clinical Congress