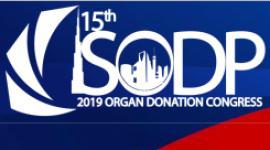 ISODP 2019 - 15th ORGAN DONATION CONGRESS
Organizer: MCI Middle East
Venue: InterContinental Dubai - Festival City , PO Box 45777, Dubai, AE
Website: go to
15th Congress of the International Society for Organ Donation and Procurement which will be held November 14-16, 2019 in Dubai, United Arab Emirates. On behalf of the Saudi Center for Organ Transplantation and the Emirates Medical Association Nephrology Society we are looking forward to hosting you.

We are planning scientific and educational programs to present the issues, ideas and innovations in organ donation and procurement, which will stimulate lively discussion and debate. We also believe this is an important milestone in the development of sound national organ donation systems in the United Arab Emirates and other Middle East nations.

If you are involved or interested in organ donation and the resulting life-saving transplants this event is not to be missed. This Congress is aimed not only at transplant surgeons, physicians, and nurses but will also cater to intensive care doctors and nurses, as well as ethicists and other related healthcare professionals.

Dubai is a modern international city and November is the perfect time of year to experience the best of what the country has to offer. You will get to know a dynamic Dubai and enjoy your stay while advancing professional expertise and insight. We look forward to welcoming you in November 2019.

tags: Living Donation Organ Quality Organ Utilisation Perfusion and Preservation Pediatric Organ Donation