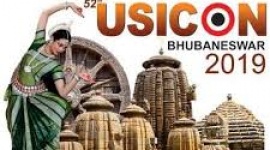 52nd Annual National Conference of The Urological Society of India (USICON-2019)
Organizer: The Urological Society of India
Venue: SOA Convention Center, Kalinga Nagar, Orisa 7510 Bhubaneswar, IN
Website: go to
Dear Friends & Esteemed Members,

On behalf of the organizing committee, I have great pleasure in inviting you to the 52nd Annual National Conference of The Urological Society of India (USICON-2019) scheduled to be hosted in the temple city of Bhubaneswar between 23rd & 26th January 2019.

Bhubaneswar is the capital city of scenic, serene & sublime Odisha, the soul of Incredible India. It is naturally beautiful with dense forests, flora & fauna, wildlife, long coastline, heritage temples and historical monuments. It is also known for its flavour of hospitality and varieties of delicious foods. We assure your comfortable stay with a relaxing time and a complete updated academic exposure.

A big compliment for an overwhelming response to our invitation. More than 500 delegates & 200 spouses have already registered for the conference and daily we are receiving request from our colleagues and friends from all over the country.

The organizing committee will leave no stone unturned to make the conference memorable for you and your family. Please block your dates and register early to be a part of the gala event and give us the opportunity to host you with the traditional Odia hospitality.

Regards,
Prof (Dr.) Datteswar Hota,
Organizing Secretary.