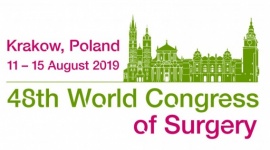 48th World Congress of Surgery (WCS) - International Surgical Week (ISW)
Organizer: The International Society of Surgery (ISS) / Société Internationale de Chirurgie (SIC
Venue: ICE KRAKÓW (International Conferences and Entertainment), ul. Marii Konopnickiej 17, 30-302 Krakow, PL
Website: go to
International Society of Surgery (ISS/SIC)
​
The International Society of Surgery (ISS) / Société Internationale de Chirurgie (SIC) is a global not-for-profit membership orginization, founded in 1902 in Belgium, would like to function with two aims in mind: on the one hand it wants to function as a very benevolent "umbrella organization" to keep the "house of surgery" together for all problems of general interest to all surgical specialties, on the other hand, the ISS/SIC has also a vital interest in upkeeping general surgery as an important training base.
​
World Congress of Surgery (WCS)

The World Congress of Surgery (formerly International Surgical Week) is held every two years in collaboration with its Collective Member Societies, WCS Partner Societies and National Societies of the host country. The congress is devoted to the discussion of surgical standards, classification and the latest research in general surgery. Both engaging and insightful, WCS is unlike any other meeting. It is an excellent scientific event in the field of surgery that brings togethter the wolrd's leading experts.
​
Through the efforts of hundreds of specialists the WCS is a vivid platform of scientific and clinical working groups that lay the foundation for future breakthroughs. The program will include plenary sessions, state-of-the-art lectures, posters, oral and videao presentations.

tags: surgery Digestive Surgery Endocrine Surgery metabolism nutrition anesthesia Rural Surgery breast surgery intensive care 48th