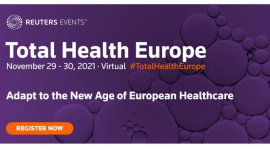 Total Health Europe 2021
Organizer: Reuters Events
Venue: Online,
Website:
go to
The traditional processes of European healthcare are failing.
Post-pandemic European healthcare providers face overburdened workforces and patients that struggle to access the care that they require. We must install new more efficient ways of working; embrace the technology available, make more accurate data informed decisions, improve our collaboration and expand the care setting beyond the confines of our hospitals and clinics.
At Reuters Events: Total Health Europe 2021; seize the opportunity to connect with a 2000+ stakeholders and find the solutions you require from the key decision makers. Ensure that you are not left behind in a rapidly changing European healthcare landscape.
tags: reuters Reuters Events Europe healthcare total healthcare europe