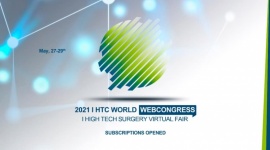 I High Tech Surgery World WebCongress 2021
May, 27 - 29th
Spend 3 days along outstanding world experts
Free for Official Members from Fellow of HTC category on!

Receive outstanding world surgical experts in your own place and know about the greatest technological surgical advances in our age!
Along with the congress attend the I High Tech Surgical Fair and have contact with amazing health companies!

tags: HTC I HTC World WebCongress 2021 surgery High Tech Surgery Association hi tech surgery surgical innovations innovation in surgery htc surgery 2021 surgery webinar webinar for surgeons