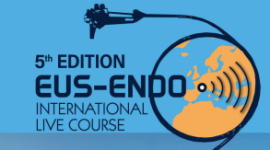 5th Edition EUS-ENDO – International Live Course
EUS-ENDO will offer you as usual one day of live transmission from Paoli-Calmettes Institute to the Congress center of Aix en Provence. We have invited worldwide experts on EUS and Endoscopy , they will demonstrate the last developments of these technologies during the live demonstrations.

The main goal of this meeting will be to demonstrate the complementarity of EUS and ERCP for biliopancreatic diseases, to show also new procedures as Radiofrequency ablation of biliopancreatic cancers, Cholangio-pancreaticoscopy, confocal laser endomicroscopy, EUS guided bilio-pancreatic drainage etc…

During the second day, lectures will be divided into four sessions: two parts of INTERVENTIONAL EUS FOR BILIO-PANCREATIC DISEASES, PANCREATIC CANCER, and ROLE OF ENDOSCOPY IN BILIOPANCREATIC PATHOLOGY.


tags: EUS-ENDO MCO Congrès eus endo 2021 live surgery Endoscopic ultrasonography EUS 2021