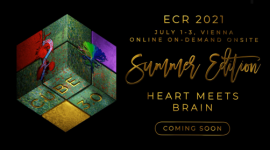 ECR 2021 Summer Edition
Heart meets brain interventionally during the upcoming ECR 2021 Summer Edition, as the topics of interventional radiology, neuroradiology and cardiovascular radiology take centre stage. Join us on July 1-3, 2021, as we bring you a multiparametric meeting focussing on three topics held in three innovative formats over the course of three full days of learning.

Inspired by one of ECR's most popular congress concepts, The Cube, this meeting will provide a mix of educational sessions and hands-on interactive experiences . Under the umbrella themes of interventional, neuro and cardiovascular imaging, the meeting will explore a huge range of topics from women's and oncologic imaging to artificial intelligence and the role of radiology during the coronavirus pandemic. All sessions will be interwoven with segments on news and innovations, entertaining interludes, demos and, of course, live discussions with some of the world's most renowned experts in radiology.

The ECR 2021 Summer Edition will be hosted on ESR Connect and broadcast live from a state-of-the-art studio in Vienna.

CME credits will be available during and after the meeting for those tuning in live or on-demand giving attendees the freedom to participate however they want.

Further details about the programme will be released soon.
tags: ESR European Society of Radiology ECR 2021 Summer Edition