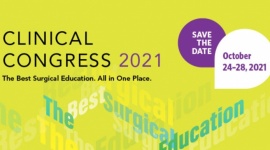 American College of Surgeons - Clinical Congress 2021
Organizer: American College of Surgeons (ACS)
Venue: Virtual event, , United States
Website:
go to
While encouraged by recent measures to reduce the incidence of COVID-19, we also recognize that this positive trajectory may not yet be a predictable one. Therefore, this year's American College of Surgeons (ACS) Clinical Congress will be a VIRTUAL event, taking place October 23–27, 2021.

Building on the success of last year's first virtual Congress, we are confident we can again offer a best-in-class educational event for all attendees, presenters, and exhibitors. The program will focus on the latest advances in surgical science, practice, and education, all celebrated under this year's theme, "Resilience in the Pursuit of Excellence." Plans are well underway to present another robust five-day conference of educational offerings and guest lectures, along with our signature Opening Ceremony and Sunday evening Convocation—all will be remote activities.

More information on programs, event registration, and fees will be available as details become finalized.


tags: ACS American College of Surgeons American College of Surgeons - Clinical Congress 2