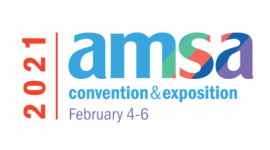 AMSA Convention & Exposition 2021
What to expect?
A space brimming with inspiration. Optimism. Experience. Virtual floors filled with diverse, empowered medical students, physicians and experts—eager to collaborate, grow and hatch solutions. Here, inspiration is contagious. Confidence in a brighter tomorrow is abundant. And action reigns supreme.

LEARN
From medical experts, leaders and movement-makers—through inspired keynotes, hands-on SIM-training and much more—to give you a leading edge.

ADVANCE
Develop professionally—present research via a poster session, work on your CV, sharpen your communication skills and more.

ADVOCATE
Take that issue that keeps you up at night, and take it to Capitol Hill. Literally. We do that here via Advocacy Day.

NETWORK
Meet the leaders behind the movement to realize change in health care—and those like you who are fueling this momentum. It's an inspired, diverse network—here to support you and your goals.


Who Attends?
Medical Students from all walks of life who burn brightly with the desire to make the world a better place through health care. Future physicians who believe all people—regardless of background or situation—deserve access to quality health care.
Physicians & Health Care Innovators looking to join forces with the next-generation of physicians—to find ways to share experience, resources and voices to realize change.
Leading Institutions committed to ensuring a better future through medical education—forerunners crucial in leading this movement.
tags: hands-on training student Health Care Innovators physicians