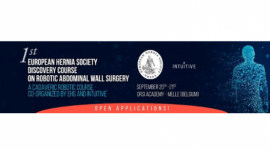 1st EHS Robotic Course
Criteria for participation

- Participants must be EHS members living in Europe.

"If you are not, this is the perfect time to become a member"

- Participants ideally have a robot in their hospital and are interested in doing robotic hernia surgery.

- Preparation with the Online training and Online Assessment.

"This is mandatory to get the hands on training"

- Recommended to do simulator training if possible before the course.

- 18 participants/ 6 cadavers/ 3 robotic proctors.
tags: ehs Robotic hernia surgery European Hernia Society - GREPA 1st EHS Robotic Course