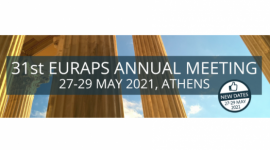 31st EURAPS Annual Meeting
Organizer: European Association of Plastic Surgeons
Venue: Hilton Athens Hotel, Athens, GR
Website: go to
Due to the rapidly escalating pandemic health concerns, EURAPS has made the difficult but necessary decision to postpone the 31st Annual Meeting scheduled in May 2020 in Athens, directly to May 2021.

We hope that we can count on your commitment and flexibility in these challenging times and welcome you all to the postponed joint meeting of the 31st Annual Meeting of the European Association of Plastic Surgeons (EURAPS) & the 9th EURAPS Research Council Meeting that will be held on 26- 29 May 2021 in Athens, Greece.

It is a great honor and privilege to host a Meeting of such a high scientific level with a program of approximately 100 selected top-quality papers from all over the world. Despite the difficult days we are experiencing, we are expecting to welcome around 400 delegates in this major European event for the plastic surgery community. As you know this is the only meeting where one can meet all the decision makers of our specialty in Europe as well as the young aspirant scientists, and discuss with them the old and new techniques, and interchange new ideas. Consequently, an exceptional opportunity to make new friends around Europe and abroad, while participating in the social program and finally enjoying the city.

As we mentioned in our first announcement, the end of spring in Attica is the best season to visit Athens! The weather is mild, and it invites you to stroll around the city, visiting the archeological sites and the brand-new museums and sights, enjoying the gardens, the terraces, and the Greek food with wine and music under the Attican Blue sky; or even to visit the nearby Athenian Riviera. Athens is a city where the ancient meets the modem, and leisure meets culture in never-ending stories.

We are confident that with your support we will make EURAPS 2021 even greater!
We are looking forward to welcoming you all in Athens in May 2021!
tags: plastic surgery 31st EURAPS Annual Meeting European Association of Plastic Surgeons EURAPS EURAPS Annual Meeting