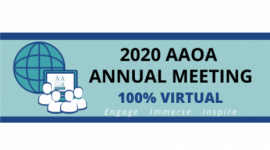 AAOA Annual Meeting 2020 Virtual
In light of the COVID19 pandemic and unprecedented impact, your Board of Directors and AAOA staff recognize the safest option is to host the meeting virtually. We look forward to your participation in this premiere member benefit (remember: the meeting is part of your overall member benefits package and does not have any additional registration fees for members).

Building on the strong, innovative program planned for Scottsdale, our Education Committee, Leadership, and staff are committed to hosting a fabulous virtual meeting that incorporates the cutting-edge science and practice management content, as well as new content in response to healthcare changes as a result of COVID. 100% virtual allows you to engage in learning and networking without taking time from your practice and allows us to take advantage of the novel approaches to adult education afforded by this platform.


Please bear with us as we work out the logistics and details. We look forward to bringing the AAOA together for a safe and productive experience in this challenging environment.
AAOA Members
As an association we are always looking for more and better ways to help our Members get and stay engaged, and to expand and enrich their network of peers. To that end, for 2020, we are continuing the Member benefit for all renewing AAOA Members and Member Candidates: FREE Registration for the 2020 AAOA Annual Meeting!
Purpose
The 2020 AAOA Annual Meeting offers general sessions discussing basic and clinical research, as well as workshops, instruction courses, topical discussions, and panels focusing on the diagnosis and management of allergy, inflammatory disease of the respiratory tract, immunology, rhinology, biologics, and the practical aspects of incorporating allergy patient care into an otolaryngology practice. Register Today.
Target Audience
The Annual Meeting is structured for otolaryngologists integrating more allergy assessment and management into their practice, AAOA members providing specialized allergy care who need to remain current with literature-based evidence and practice trends, residents, PA/NPs who work in otolaryngology, and allied health staff who support their physicians in the management of allergic patients. The Annual Meeting offers face-to-face opportunities with the faculty to discuss nuances and answer questions.
Expected Results
The Annual Meeting is intended to advance physician competence and performance and is intended to result in improved patient care outcomes. Upon completion of the course, participants should demonstrate competence in the evaluation and management of the allergic patient, including utilization of appropriate testing techniques, implementation of environmental control, delivery of allergy pharmacotherapy, and delivery of safe immunotherapy.
Content Area
The AAOA CME program centers around clinical issues related to the care of allergy/immunology and inflammatory diseases of the airways and systems related to the head and neck.
The Annual Meeting focuses on:
Immunotherapy (SCIT and SLIT)
Diagnosis and management of allergy
Practical rhinology
Basic principles of allergy
Instruction courses focusing on a variety of topics such as gastroesophageal disorders, immunology, stinging insects, allergy emergencies and anaphylaxis, sleep disorders, and setting up an allergy practice
Current research highlighting advances in clinical and basic science
Business of Medicine programming, focusing on the day-to-day issues that all Otolaryngologists face. Sessions are designed to help solving challenges affecting any practice
USP 797 Compliance Training and Media Fill Test Workshop
Biologics
tags: Otolaryngology immunology rhinology AAOA Annual Meeting 2020 AAOA virtual event American Academy of Otolaryngic Allergy