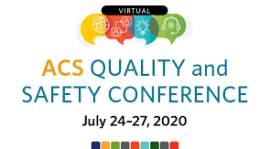 ACS Quality and Safety Conference: VIRTUAL
Registration is now open for the 2020 ACS Quality and Safety Conference VIRTUAL—a socially-distanced version of our in-person conference!

2020 ACS Quality and Safety Conference VIRTUAL will run from Friday, July 24 through Monday, July 27. Registration is free-of-charge and available to all. The program will feature something for everyone! We will offer a variety of compelling video presentations live and on-demand, along with an opportunity to engage in a live chat with session presenters.

Program participants can look forward to a few ACS Quality Program-specific topics. Other timely topics also will be addressed, including leadership during a crisis, perspectives from surgeons during and post-COVID-19, and wellness and resiliency during the pandemic. Subject matter experts in surgery will participate in multiple hot-topic fireside chats. Attendees will also have access to a multitude of abstract presentations.

More information, including registration instructions and the conference agenda, will be available soon. Stay tuned!

If you have any questions please contact us at acsqsconference@facs.org.

Conference Objectives
The ACS Quality and Safety Conference strives to:


PROVIDE a professional forum to discuss and apply the most recent knowledge pertaining to national, international, and local quality and safety initiatives in the field of surgery.
PRESENT methods used to analyze data from ACS Quality Programs and demonstrate practical ways to use the data for quality improvement.
ASSIST hospitals and providers in managing, analyzing, and interpreting data by providing education on proven methods that will empower hospitals and centers to make a positive impact at their facilities.
ENHANCE the learning experience by offering breakout sessions that educate attendees on the topic areas of their choice and with consideration of their level of programmatic experience.
tags: ACS Quality and Safety Conference VIRTUAL ACS American College of Surgeons Surgeons