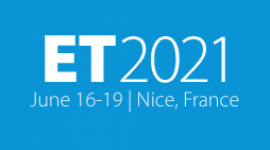 European Conference on Embolotherapy 2021
Organizer: Cardiovascular and Interventional Radiological Society of Europe (CIRSE)
Venue: Nice, FR
Website: go to
ET will not take place this year. Join us for ET 2021 in Nice from June 16-19!
In recent years, embolotherapy has made remarkable progress and has become an indispensable treatment for a variety of conditions. Today it is an integral part of interventional radiology practice, and therefore it is more important than ever for interventional radiologists to master embolisation procedures in its numerous applications.

Between 2009 and 2017, CIRSE organised the biennial GEST Europe Meeting in cooperation with GEST. Since 2019, GEST has become an annual meeting in the US and CIRSE continued the legacy of a dedicated embolotherapy meeting in Europe by introducing ET – the European Conference on Embolotherapy.

The debut of ET in Valencia in 2019 exceeded all expectations, bringing together more than 800 medical experts to exchange knowledge, share experiences and explore the latest technologies. The meeting has immediately established itself as highly innovative and interactive conference, organised by interventional radiologists for interventional radiologists.

In the next years ET will be pushing embolotherapy education into high gear, exploring both established as well as novel therapies.

ET perfectly complements CIRSE's existing education portfolio, and provides a platform for innovation, education and the advancement of embolotherapy as an integral part IR practice.

At ET 2020, CIRSE will continue its tradition of fruitful cooperation by inviting GEST to be part of the ET meets GEST 2020 Scientific Programme Committee to even further enrich the conference programme. It is planned to have this collaboration also in 2022 and 2024.
tags: TACE UFE venous embolisation CIRSE embolisation Embolotherapy