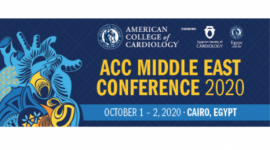 ACC Middle East Conference 2020
Organizer: American College of Cardiology (ACC), Egyptian Society of Cardiology (ESC)
Venue: InterContinental Citystars Hotel, Cairo, EG
Website: go to
DUE TO THE CONTINUING COVID-19 PANDEMIC, THE AMERICAN COLLEGE OF CARDIOLOGY AND THE EGYPTIAN SOCIETY OF CARDIOLOGY HAVE DECIDED TO POSTPONE THE ACC MIDDLE EAST CONFERENCE 2020 TO 2021 SINCE THE HEALTH AND WELL-BEING OF EVERYONE INVOLVED IN THIS CONFERENCE IS OF UTMOST IMPORTANCE TO US.

WE ARE STILL WORKING TO CONFIRM THE NEW DATES FOR 2021 AND WILL CONTACT ALL CONFERENCE ATTENDEES WHEN NEW DATES HAVE BEEN FINALIZED.

THANK YOU FOR YOUR UNDERSTANDING AND ONGOING SUPPORT OF THE ACC AND ESC.
tags: cardiovascular Cardiac Surgery Cardiology American College of Cardiology ACC Middle East Conference 2020