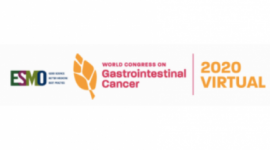 ESMO World Congress on Gastrointestinal Cancer 2020 Virtual
The ESMO World Congress on Gastrointestinal Cancer remains committed to fulfilling its mission of disseminating critical cancer research. It is then in the spirit of progress and advancement, that we announce that this important education will be delivered as a virtual experience to take place online over the same dates of 1-4 July 2020. We are committed to continuing to provide groundbreaking research and insight into gastrointestinal cancers to our global community. Even in the midst of COVID-19, the work cannot stop against defeating other devastating diseases – we must continue to meet, engage, learn, and advance.
As the premier global gathering in the field, the 22nd Congress will bring together leading gastroenterology, oncology, pathology, and hepatology experts, clinicians, and surgeons, as well as clinical researchers from across the globe - virtually - to share pioneering research, approaches, and best practices in treating patients with cancers of the gastrointestinal tract.

The program provides all stakeholders with opportunities to learn, debate, discuss, and network in this very active scientific field where recent progress has led to improvements in patient outcomes.
3.500 Delegates
21 Scientific Sessions
120 Countries
4 Practice-Changing Days
tags: virtual event Oncology online event Physiotherapy WorldGI2020 gastroenterology pathology ESMO World Congress on Gastrointestinal Cancer