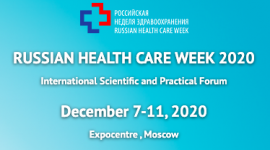 Russian Health Care Week 2020
Over many years, this large-scale event has given a full picture of accomplishments and priorities of the Russian health care and has served as an efficient platform for discussing the current challenges and problems of the medical industry. The unique format of Russian Health Care Week helps to coordinate joint activities and discuss wide range of issues related to development of the Russian health care and medical industry. This year the main focus will be on the implementation of the Health Care National Project, modernization of the primary health care system, ensuring the accessibility and quality of medical care and export of medical services.

Why participate?

Russian Medical Market:
- 27,000 health care related establishments in Russia;
- Volume of medical products: over 269 billion rubles;
- The sector of commercial medical services keeps growing; its annual increase averages 13%.

tags: RUSSIAN HEALTH CARE WEEK 2020 emergency medicine traumatology Urology ophthalmology