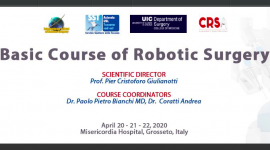 Basic Course of Robotic Surgery 2020
Organizer: International School of Robotic Surgery, Clinical Robotic Surgery Association, Department of Surgery
Venue: Misericordia Hospital, Grosseto, IT
Website: go to
TARGET AUDIENCE

The course is intended for Italian and foreign surgeons specializing in general surgery
or general surgery specialists. Admission criteria follow below:
• Proven personal experience in basic laparoscopic techniques;
• 16 doctors will be admitted each academic year and exclusion results in priority
admission the following year

OBJECTIVES

The course is designed for surgeons who are looking to start using robotic
technology. Thus, the main objective of the course is to provide an introduction on
the following topics:
• Robotic technology and associated functionalities;
• Operating room set-up;
• Medical / paramedical staff roles;
• Feasible surgical techniques / approaches;
• Basic manual skills to use the robotic system; and
• Possible complications and associated treatment.
At the end of the course, the trainee will be familiar with the basic techniques
necessary for using the robotic system.

LABORATORY ACTIVITIES

Activities in the laboratory will include the following:
• Training on robotic system technical features and functionalities
• DRY LAB
1. Basic skills (using the simulator);
2. Coordination, 3D perception, tactile feedback, telemanipulation basics, and
performance evaluation
• WET LAB
1. Main differences with laparoscopy, triangulation, port positioning, robot
docking, available instrumentation, tissue manipulation with robotic
instrumentation, hemostasis control;
Procedures: trainees will rotate executing basic upper abdomen procedures
including cholecystectomy, fundoplication, esophageal myotomy, gastrointestinal &
entero-enteric anastomosis, etc.
tags: Basic Course of Robotic Surgery 2020 general surgery gynecology thoracic surgery