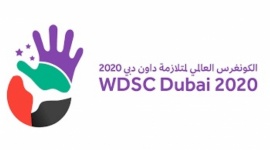 World Down Syndrome Congress Dubai 2021
Organizer: MCI Middle East
Venue: Dubai World Trade Center, Dubai, United Arab Emirates
Website:
go to
In light of the current COVID-19 and its progression, and after close consultation with our national and international stakeholders, the Organizing Committee of the 14th World Down Syndrome Congress Dubai 2020 would like to announce the postponement of the congress from its originally scheduled date of 15-17 November 2020 to the next year 2021, at the same venue (Dubai World Trade Center). The new dates will be announced in due course.

Our main priority is the safety and well-being of our participants, and by moving the congress date, we aim to protect our delegates from any potential health risks, as well as avoid travel restrictions that already placed on many countries and would limit the ability of some delegates from attending the congress.

Despite the postponement, the preparations for the congress will continue without interruption and the WDSC organizing committee remains committed to turn this congress into an enriching and incredible experience for all.

For the latest updates regarding the WDSC Dubai 2021, please visit the congress website or contact the congress secretariat on [email protected]

We appreciate your support and understanding and look forward to welcoming you to the World Down Syndrome Congress Dubai 2021.

tags: World Down Syndrome Congress Dubai 2020 dubai 2020