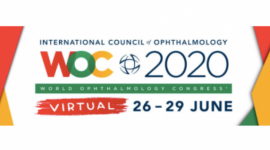 World Ophthalmology Congress 2020 Virtual
On behalf of the ICO, it is our great honor to invite you to join us for the 37th meeting of the World Ophthalmology Congress, WOC2020 Virtual®, which will take place from 26–29 June 2020 through a unique online learning platform. This will be an exciting, exceptional experience that showcases an outstanding scientific program with over 2,000 presentations of the highest level given by leaders and experts from around the world.

Registration fees for WOC2020 Virtual® will include access to both live and pre-recorded sessions from world leaders and experts, including industry symposiums and poster presentations, available on-demand for up to 3 months after the congress.


tags: World Ophthalmology Congress 2020 WOC 2020 ophthalmology WOC2020 Virtual virtual event