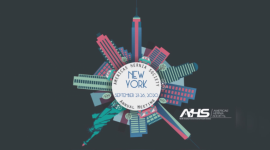 AHS Annual Meeting
The goal of the AHS is to provide quality education to surgeons who have an interest in hernia surgery and abdominal wall abnormalities. Each year the AHS hosts a Hernia Repair Conference highlighting new techniques, updates in hernia repair, diagnosis of abdominal diseases, implications of hernia surgery, patient management and other very important topics related to general surgery and hernia repair.

In addition to the AHS Annual Meeting, periodically the AHS will host additional educational opportunities. These are less frequent, but still beneficial to education and management of hernia repair. Post Grad Courses and other educational forums will be posted on the website, please check for updates.

Mark your calendars. More information to come. Call for abstracts: Coming Soon!
tags: hernia surgery hernia repair Americas Hernia Society AHS Annual Meeting