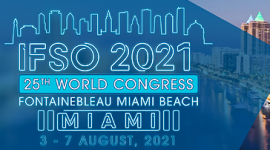 25th World IFSO Congress
Organizer: International Federation for the Surgery of Obesity and Metabolic Disorders (IFSO)
Venue: Miami, Florida, US
Website: go to
On behalf of the IFSO community and leadership, we are delighted to invite you to join us in Miami to attend the 25th World IFSO Congress to be held August 3-7, 2021. We are excited to announce we also will be hosting in conjunction with this meeting the IFSO LAC and ACOCIB Annual Meeting, First World Consensus in Endoscopic Bariatric and Metabolic Interventions, and IBC.


This Congress, as you probably already know, is the greatest worldwide bariatric meeting, usually attended by surgeons, multidisciplinary support staff, researchers, physicians, and other healthcare professionals involved with the primary mission of IFSO: unite and educate against adiposity and metabolic disorders. Academic activities will include amazing and innovative Post Graduate courses that have a great emphasis on Integrated Health activities which will have a presence throughout the whole meeting.


Symposium will include so many interesting and new topics like ICG, Percutaneous Approaches, Women Bariatric Surgeons, Medications, and other therapies for Metabolic problems, video theater, video terror.


The scientific program will be very comprehensive and focused on updating, investigating and better understanding the most comprehensive array of topics in the field of the growing adiposity-based chronic diseases, through Post Graduate courses, symposia, expert talks, discussion panels, hands-on skill labs, video sessions, paper, and poster presentations, emerging, endoscopic and new technology sessions.


The aim of the Congress is to educate on all the bariatric and metabolic surgery topics, but also to unite across country borders healthcare professionals from different specialties in their fight against the adiposity epidemic. Besides the regular Congress sessions, we are preparing great surprises with diverse and innovative sessions for you. We even will be offering some CMEs for some of the sessions!


We are going to have some amazing social opportunities too for you to network and enjoy Miami and the Latino hospitality.


We look forward to having you with us!

tags: Surgery of Obesity and Metabolic Disorders Obesity Florida