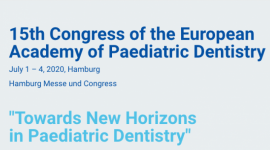 15th Congress of the European Academy of Paediatric Dentistry
It is our great pleasure to invite you on behalf of the European Academy of Paediatric Dentistry EAPD and the Local Organizing Committee to attend the 15th EAPD congress. This meeting will take place in Hamburg, Germany, from 1 – 4 July 2020.

The biannual EAPD congress is one of the major and most important global meetings in Paediatric Dentistry. The conference will give opportunity for scientists, specialists as well as general practitioners to exchange experiences and deepen their knowledge about the latest developments in our profession. Additionally, the EAPD conference 2020 gives ideal framework for international exchange.

Located in Northern Germany, Hamburg is a place easily connected to Europe with special closure to the Scandinavian Countries as well as offers great cosmopolitan flair and cultural life.

The 15th EAPD congress will be held at the Hamburg Trade Fair Center next to the city center of Hamburg with its hotels, restaurants and the historic "Speicherstadt", an UNESCO World Heritage Site.

The scientific programme reflects a range of most important and challenging subjects in Paediatric Dentistry. The main topic "Paediatric dentistry in a changing society" will address special tasks, which derive from altered positions of children in our families and societies, but also the current changes induced by migration in Europe.

A second main topic will be "Dental care for medically compromised children" who require more and more attention due to the huge progress in medical care for these children. Finally, the main topic "Biomaterials in Paediatric Dentistry" deals with a core subject in our profession.

All these topics are of great importance for anyone involved in Paediatric Dentistry, and the Organizing Committee is diligently working to present a remarkable fascinating program to ensure a successful meeting outcome.

We are looking forward to welcome you to Hamburg in 2020.