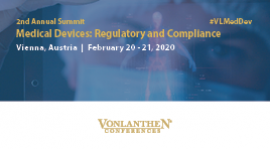 2nd Medical Devices: Regulatory and Compliance Summit
Organizer: Vonlanthen Group of Companies
Venue: Meliá Vienna , Donau City Strasse 7, 1220, Vienna, AT
Website: go to
There's less than one year left to EU MDR implementation. Are you ready?

This process can be complex and challenging, and the 2nd Medical Devices: Regulatory and Compliance Summit is here to help. This two-day event provides the appropriate platform for industry leaders and regulatory professionals to discuss the best practices for implementing MDR and IVDR in the EU.
Held on February 20-21, 2020, in Vienna, Austria, this Summit will shed light on classification, conformity assessment and risk management in regulatory strategies to achieve compliance and ensure patients' safety. Through case studies, interactive presentations and discussions, attendees will learn which regulatory strategy is applicable for their products, how to develop effective tactics and how best to achieve smooth market access. Besides sharing best practices, this event offers a valuable opportunity for network­ing and partnering with businesses of diverse sizes and types.

We are excited to be hosting this event and we look forward to meeting you in Vienna!