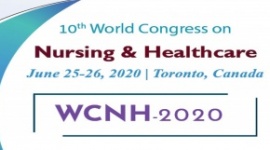 10th World Congress on Nursing & Healthcare
On behalf of the Organizing and Advisory Committee, we take great pleasure in welcoming Professors, CEO'S, Directors, Surgeons, and Physicians, Research scholars, Nurses, Ph. D Students, Medical practitioners and experts of application fields to Toronto, Canada for the 10th World Congress on Nursing & Healthcare to foster the progress in the field by contributing with your expertise to what promises to be a very comprehensive and exciting meeting, and to enjoy the immense unique artistic heritage and wonderful landscape of Canada.

The event will have 5-6 world level (Highly cited class) Plenary Speakers, established Keynote Speakers, active Invited speakers, and fresh contributed Speakers all around the World.
The aim of the WCNH-2020 is to promote quality research and real-world impact in an atmosphere of true international cooperation between scientists and engineers by bringing together again the world-class researchers, International Communities and Industrial heads to discuss the latest developments and innovations in the fields of Nursing & Healthcare.
tags: Nursing health care