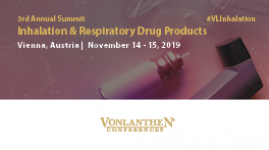 3rd Annual Inhalation & Respiratory Drug Products Summit
Organizer: Vonlanthen Group of Companies
Venue: Hilton Garden Inn Vienna South , Hertha-Firnberg-Straße 5, 1100, Vienna, AT
Website: go to
Welcome to the 3rd edition of the Inhalation & Respiratory Drug Products Summit on November 14-15, 2019, in Vienna, Austria.

This Summit brings together experts from pharmaceutical and biotech industries, as well as manufacturers, academia and regulatory agencies, with the highest level of expertise in the respiratory field.

Besides sharing best practices, this event offers a valuable opportunity for network¬ing and partnering with businesses of diverse sizes and types. The conference covers a wide spectrum of topics including an overview and emerging trends of inhalation and respiratory drug products, formulation of inhaled therapies, nasal drug delivery, inhalation devices and respiratory drug products analytics and tools.

We look forward to welcoming you this November in Vienna!