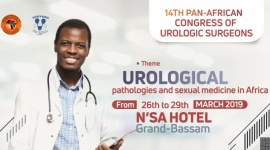 Urologiacal Pathologies and Sexual Medicine in Africa
Organizer: The Association of Urologists Ivoiriens
Venue: N'SAH HOTEL -GRAND BASSAM , Grand-Bassam Road of Bonoua, Residential district , CI
Website: go to
Ivory Coast has been chosen by the Panafrican Association of Urologic Surgeons (PAUSA) to organize , from March 26 to 29 , 2019 in Abidjan , the 14th congress of the African Days of Urology . The Ministry of Health and Public Hygiene of Côte d'Ivoire has agreed to provide support. It will be held in the seaside town of Grand Bassam at Nsah Hôtel. This international congress will see the participation of eminent urologists from five continents. Approximately five hundred (500) delegates, partners and officials are expected at this congress.
A WORD ABOUT PAUSA

PAUSA (PAN AFRICAN UROLOGICAL SURGEONS ASSOCIATION) is an international scientific association created in 1992, whose mission is the promotion of urology and scientific exchanges in urology on the African continent. You can find more information about this association on pausaafrica.com
HIGH LEVEL DISCUSSIONS

Several conferences and communications will be held around urological cancers, urogenital fistulas and renal transplantation. There are also workshops that will allow participants to rub shoulders with the latest generations of equipment in urology …
MULTILINGUAL SUPPORT

We are actively working to offer simultaneous translation (English-French) to allow the maximum number of participants to follow the work.