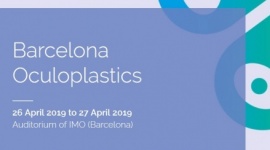 Barcelona Oculoplastics
Organizer: IMO Foundation
Venue: Instituto de Microcirugia Ocular de Barcelona (IMO), Barcelona, ES
Website: go to
CME credits: 1,5
Barcelona Oculoplastics – (B)OC – is a leading international event, whose purpose is to review and update all of the concepts and issues that need to be addressed when attending to patients that require functional surgery or request cosmetic treatment of the upper part of the face. It is aimed at ophthalmologists with an interest in oculoplastic surgery, oculoplastic surgeons and other professionals with an interest in the periocular area (plastic surgeons, cosmetic doctors, dermatologists, etc.).

Save the date! The next edition will be held on 26 and 27 April 2019.

Barcelona Oculoplastics is a dynamic and practical event that features the participation of renowned invited surgeons, who perform live surgery to resolve eyelid disorders (ptosis, retraction, blepharoplasty, etc.). There will also be a workshop on oculofacial cosmetic surgery, during which real patients will be treated. All activities will showcase the latest trends and approaches.

The event will also include a session to follow up the evolution of patients who were operated on or treated during the 3 previous editions, 2012, 2015 and 2017.

We hope to see and welcome you to the IMO in April 2019.