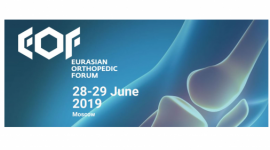 Eurasian Orthopedic Forum
Mission of the Forum

Promotion of international industrial, scientific and practical cooperation in the field of medical technologies and production of medical devices in the field of traumatology and orthopedics and related industries, in order to create an alternative Eurasian vector of development and cooperation of specialists and manufacturers.

"Dear colleagues,

You are invited to take part in the Eurasian Orthopedic Forum, which will take place on July 28-29, 2019 in Moscow.

EOF-2017 won industry recognition and set the foundation for uniting trauma surgeons, orthopedists, specialists of related professions and industry partners from all over the world in a constructive dialog and experience-sharing. We are glad Russia is the host to this unification and are grateful to everyone who took active part in the process of preparation for the Forum.

The last EOF was attended by 3,750 professionals: health specialists, government representatives, industry and manufacturing partners from 70 countries of the world.

We are now expanding our initiative, promoting EOF as a comfortable and efficient platform for international cooperation in the area of providing hi-tech medical assistance and covering more general healthcare issues.

It is a pleasure to realize that numerous colleagues and institutes abroad support the activities of the Russian Trauma Orthopedists Association.

In 2019, we expect more than 5,000 delegates to attend the event, with an agenda covering 20 areas of academic interest and as many significant issues in the development of healthcare, manufacturing medical products and implementing innovations.

You are invited to join the cooperation, and I hope that the Eurasian Orthopedic Forum will help unite the knowledge and expand the interaction between specialists in the common Eurasian space. "

tags: orthopedics traumatology health-care economics