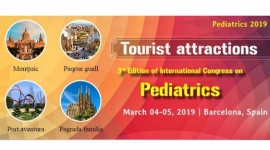 3rd Edition of International Congress on Pediatrics
About Conference

EuroScicon would like to invite participants around the world with great honor to join 3rd Edition of International Congress on Pediatrics which is going to be held during March 4-5, 2019 at Barcelona, Spain. EuroScicon is excited to keep you updated with the most advanced and best practices in the arena of Pediatrics. We cordially welcome all the eminent doctors, academic scientists, researchers, scholars, students and delegates to take part in this upcoming Pediatrics 2019 to exchange and share their experiences and research results on all the aspects of pediatrics.

Pediatrics 2019 emphasis on the current innovations and novel technologies in all areas of Pediatrics. It offers a platform to the budding researchers, scientists, professors, students across the globe to meet exchange and perceive new scientific innovations and be discovered. This year's annual congress highlights the theme, "Emerging technologies and future directions in Pediatrics" which reflects the innovative progress in Pediatric disease research. The two days congress comprises of a a variety of state-of–the–art-sessions, symposiums, special keynote sessions, roundtable discussions, panel discussions, and poster presentations, young researcher forums, E-posters conducted by the most outstanding and renowned speakers who outshine in the field of Pediatrics. This conference comprises the topics: General Pediatrics, Neonatology and Perinatology, Hematology, Pediatric Dermatology, Pediatric Gastroenterology, Pediatric Allergy and Asthma, Pediatric Orthodontics, Pediatric Oncology, Pediatric Neurology, Pediatric Endocrinology, Pediatric Nephrology, Pediatric Cardiology, preventive measures and Treatments of Pediatric Diseases. Pediatrics 2019 encourages the active contribution of young and dynamic student researchers as we are hosting Poster Award Competition and Young research Forum at the conference venue.

Euroscicon believes that professionally-oriented education in pediatric medicine is essential in the training of clinicians and academicians and is organizing Pediatric conference at Barcelona, Spain. EuroScicon's 3rd Edition of International Congress of Pediatrics will not only provide you an ideal channel to elevate your knowledge and explore the latest advancements in the field of pediatrics but also the conference theme will underpin the urgent need for collaboration and cooperation of prominent personalities and individuals from a wide range of scientific backgrounds.