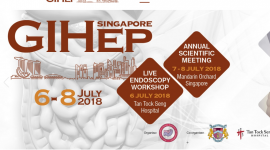 GIHep Singapore
Organizer: The Gastroenterological Society of Singapore
Venue: Mandarin Orchard, 333 Orchard Road, 238867 SG, SG
Website: go to
Dear Friends,

On behalf of the organising committee, it gives us great pleasure to extend a warm welcome and invitation to GIHep Singapore 2018, organised by the Gastroenterological Society of Singapore in collaboration with the Chapter of Gastroenterologists, Academy of Medicine Singapore and Changi General Hospital.

This year, we have lined up an exciting program for our delegates. The congress will start off with a live-endoscopy workshop followed by two days of stimulating lectures; we are fortunate to have a group of international and regional experts who will share their wisdom and knowledge with you.

GIHep is now in its 13th edition and it has been a decade of fostering and building friendships, of establishing collaborations and of witnessing progress in Gastroenterology and Hepatology. We would not have reached this stage without the support of the various healthcare institutions and societies, our industry partners and most importantly, the faculty and participants. We would like to take this opportunity to thank our faculty for spending their valuable time with us.

We hope that you will join our prominent international and regional experts from 6th – 8th July 2018 for an exciting and intellectually stimulating meeting and that you will take time to enjoy our garden city as well!