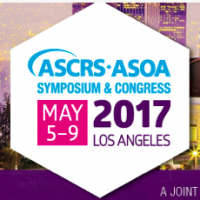 ASCRS/ASOA Symposium and Congress 2017
Organizer: American Society of Cataract and Refractive Surgery
Venue: Los Angeles Convention Center, Los Angeles, US
Website: go to
Taking place at the Los Angeles Convention Center, the ASCRS•ASOA Symposium & Congress (May 5–9, 2017) will be the largest U.S. meeting that integrates a scientific program dedicated to the needs of the anterior segment specialist with the leading practice management program for comprehensive ophthalmology and subspecialties. The 2017 ASCRS•ASOA Symposium & Congress will be a joint meeting with the Asia-Pacific Association of Cataract & Refractive Surgery.

The meeting will include quality education for clinical staff as well through the Technicians & Nurses Program, May 6–8, 2017, which will feature T&N Tech Talks on Friday afternoon. The meeting will also offer special programming and events for Young Eye Surgeons (YES)—residents and fellows and surgeons one to five years in practice.

Learn directly from the world's thought leaders in ophthalmology, broaden your networking connections, and return with the practical tools needed to improve your practice.