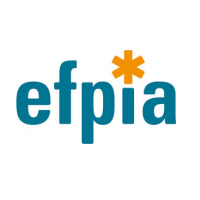 EFPIA
Street address

Rue du Trône 108
B-1050 Brussels
Belgium
Founded at

2014-08-28
Website
Views

896
Description

The European Federation of Pharmaceutical Industries and Associations (EFPIA) represents the pharmaceutical industry operating in Europe. Through its direct membership of 33 national associations and 40 leading pharmaceutical companies, EFPIA is the voice on the EU scene of 1,900 companies committed to researching, developing and bringing to patients new medicines that will improve health and the quality of life around the world.

Europe needs and deserves healthcare systems that take a modern approach to both demand and delivery. 21st century healthcare systems should benefit the needs of European countries, which are faced with unprecedented challenges to its social model growth. The vision of the pharmaceutical industry is one of cooperation and partnerships: A collaborative approach will maximise the benefits we can deliver to society together through developing innovative medicines.

Our Vision

We support a vision of modern, sustainable healthcare systems in Europe. We want systems that provide patients with equal and early access to the best and safest medicines; that support innovation while realistically balancing benefit and risk; that empower citizens to make informed decisions about their health and ensure the highest security of the medicines supply chain. Such a vision will also assist policymakers in sustaining Europe's economic growth and competitiveness, by balancing healthcare budgets and helping to provide for a healthy and productive workforce. It also offers the most effective approach to deliver the innovative medicines needed to tackle current and potential health threats.

Shared content