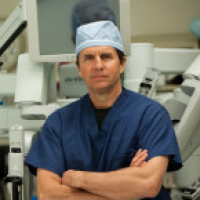 Douglas Murphy
Degree

MD
Professional group

doctor
Fields of interest

Cardiac Surgery
Views

5280
Biography

Dr. Murphy received his MD at the University of Pennsylvania School of Medicine in 1975 and did his internal medicine residency and general surgery residency at Massachusetts General Hospital. After completing his cardiothoracic surgery fellowship at Emory in 1983, he joined the faculty of the Emory Department of Surgery. Four years later, Dr. Murphy was appointed director of cardiac transplantation at Saint Joseph's Hospital. He became section chief of cardiothoracic surgery at the hospital in 1995, and chaired Saint Joseph's Heart and Vascular Institute from 2007-2009.

Building on the foundation of his early advocacy of minimally invasive cardiac surgery, Dr. Murphy developed into of the most experienced robotic heart surgeons in the world. In 2002, he led one of the first U.S. cardiac surgery teams in clinical trials of the use of the da Vinci® Surgical System for atrial septal defect repair and coronary bypasses prior to FDA approval. In 2004, St. Joseph's was named the exclusive southeastern training center for the da Vinci® System, and Dr. Murphy's training sessions attracted physicians from around the globe.

Following the finalization of the partnership between Saint Joseph's and Emory Healthcare in 2013, Dr. Murphy rejoined the Emory faculty as a professor of surgery. He retains his membership on the cardiothoracic surgery team at Saint Joseph's and is maintaining his focus on performing, researching, and teaching robotic heart surgery.
Shared content