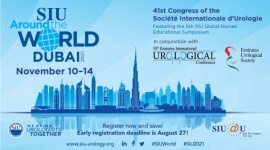 41st Congress of the SIU & the 10th Emirates International Urological Conference
Organizer: MCI Middle East
Venue: Dubai International Convention & Exhibition Centre, Dubai, United Arab Emirates
Website:
go to
Join Us in Dubai for SIU 2021 from November 10-14, 2021

The 41st Congress of the Société Internationale d'Urologie (SIU) is being held in conjunction with the 10th Emirates International Urological Conference of the Emirates Urological Society (EUS) from November 10-14, 2021 in Dubai.

The congress aims to bring urologists together and enhance urological care and research around the world. The congress will provide updates on the latest trends and research that will help all attendees in their daily practice.

Join us in person to experience an outstanding scientific programme that provides high-level educational opportunities, and to network with international colleagues.
tags: SIU2021 41st Congress of the Société Internationale d'Urol 10th Emirates International Urological Conference Société Internationale d'Urologie