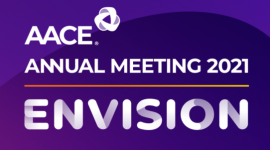 American Association of Clinical Endocrinology - 30th Annual Meeting 2021
Organizer: American Association of Clinical Endocrinology (AACE)
Venue: Virtual event, -
Website: go to
CME credits: 88.75
We are excited to announce this year marks our 30th Anniversary. Due to the ongoing COVID-19 global pandemic, our 2021 Annual Meeting, Envision will be held as a four-day interactive, virtual meeting from May 26-29, 2021 that you don't want to miss. Join our 2,000+ multidisciplinary attendees for an engaging conference focused on knowledge sharing and community building. We have a full lineup including state-of-the-art lectures, advanced learning experiences, engaging sessions, expert panel discussions, abstracts and more!

Our Annual Meeting is the world's largest clinical endocrinology meeting with over 125+ medical panel experts. Our speakers will be presenting advancements in the management of endocrine disease, breakthroughs in scientific research, and new technologies for improving patient care. I'm excited to also introduce our keynote speaker, Tait Shanafelt, M.D., Chief Wellness Officer of Stanford Medicine, and Associate Dean at the Stanford School of Medicine.

With six disease specific plenary sessions and six education tracks, you'll be sure to have a multitude of engaging options. Our live virtual education program was developed with multidisciplinary teams in mind, so you have the option to pick the tracks that are of most interest to you. 

Learning Session Tracks:
1. Diabetes
2. Nutrition and Obesity
3. Thyroid
4. Lipids and Cardiovascular Health
5. Pituitary and Neuroendocrine
6. Bone and Parathyroid

Our Annual Meeting offers 88+ hours of CME, Nursing and Pharmacy Credits. That's right 88+! We are strongly committed to providing the best available evidence-based clinical information to participants. Successful completion of this CME activity, which includes participation in the evaluation component, also enables participants to earn MOC points in the American Board of Internal Medicine's (ABIM) Maintenance of Certification (MOC) program. 

Due to the COVID-19 pandemic many organizations have opted to have virtual events for the health and safety of our community, but don't let the word virtual give you the impression that it's going to be another boring Zoom meeting. We're taking the meaning of virtual to the next level and vamping up our sessions, so you can engage with our colleagues, industry partners, and make new connections. This is a great opportunity to join from anywhere in the world and ask live questions. Our program not only offers plenary talks and meet-the-experts sessions, but also includes interactive virtual games, an Expo Hall, and our AACE Awards Ceremony. This action filled week will be sure to enlighten and engage you from the comfort of your home or office. It's virtual, and everyone in the endocrine community is welcomed. We hope to see you there along with our 2000+ attendees to learn about the latest updates in clinical endocrinology.
tags: AACE2021 30th Annual Meeting 2021 American Association of Clinical Endocrinology