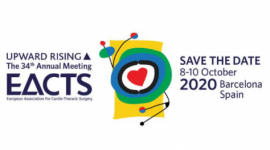 34th EACTS Annual Meeting
Organizer: European Association for Cardio-Thoracic Surgery
Venue: Centre Convencions Internacional de Barcelona (CCIB) , Plaça de Willy Brandt, 11-14, 08019 Barcelona, ES
Website: go to
The Annual Meeting has been adapted for our times. This year you can visit the 34th Annual Meeting in Barcelona in person and also amazingly, through a revolutionary new online experience,

THE EACTS PORTAL

Suddenly Zoom is obsolete!

The impact of COVID-19 has changed our world considerably. Our primary concern will be the health and safety of all delegates and exhibitors. We will be adapting the way we run our event in Barcelona so that important measures such as social distancing can be practised. Although some countries are slowly emerging from lockdown, the situation is changing regularly and we will remain watchful. We are monitoring international best practice and will of course observe official Spanish guidance.


tags: European Association for Cardio-Thoracic Surgery cardio-thoracic surgery EACTS Cardiology thoracic surgery 34th EACTS Annual Meeting