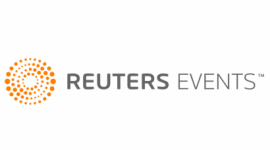 Reuters Events Healthcare: Global Online Edition
The stage is set for a paradigm shift in healthcare. The opportunity exists to redefine healthcare in a way that advances patient outcomes, drives efficiency and transforms lives.

Reuters Events: Healthcare will unite CEOs, innovators, disruptors and policy makers from across the healthcare ecosystem to seize upon this critical moment. We will define a roadmap for a technology-driven, equitable, patient centric, accessible system, powered by access to next-generation medicine. With the world looking at the healthcare industry for guidance, this is where its leaders come to set the agenda and break the news.

Our goal is to inspire the healthcare industry, challenge what's possible and provide a platform for the world's greatest leaders. We are disrupting the traditional conference model and offering you the ultimate conference experience. We will be hosting our flagship Reuters Events Flagship Healthcare Forum Online to give access to 5000+ healthcare leaders worldwide.

Learn from 40+ online sessions and interact with 20+ speakers

- Watch Live: Watch presentations, fireside chats and panel discussions from top industry thought leaders all day, every day!

- Discuss: Comment and question in real time. Spark conversations with your 5,000+ fellow attendees. Follow up with interesting ideas in the digital networking suite!

- Question: Get in-depth answers in real-time in our live Q&A sessions in each presentation and panel!

- On-Demand: Missed a session? Catch-up in your own time through our on-demand service. Imagine Netflix but the best of immersive enterprise thought leadership.

- A Brand New Virtual Exhibition: If you want to find the solution providers that are driving innovation for claims, whether it's FNOL, estimation, customer engagement or payment, you can find your next insurtech partner in our digital exhibition. Don't forget to leave a digital business card!

- Audience Interactivity: We know that opportunities to interact with your peers are what make events special. That's why wherever possible and using the latest technology we will continue to deliver live Q&As, breakout sessions & workshops and audience polls.


20+ C-Suite Speakers
1,000+ virtual meetings
2 days networking
40+ Live and On-Demand sessions
tags: REhealthcare Reuters Events Healthcare Reuters Events online event